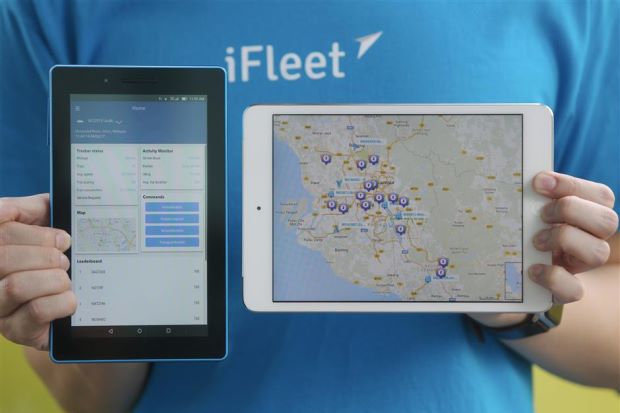 Digi offers a new fleet management solution
Good driving skills could possibly save lives but now, it could save you money too.
Digi Telecommunications Sdn Bhd announced today its new intelligent fleet management solution called iFleet, which enables vehicle owners to track their fleet in real-time.
It is expected to disrupt the motor insurance industry with its ability to translate valuable data into actionable insights, in this instance, to collect and analyse data to score driving behaviours.
"We could drive the same car but pay different premiums depending on our driving capabilities. The insurance companies need to be able to see how you drive, and iFleet can provide them with that information," said Digi chief digital officer Praveen Rajan at the iFleet official launch in Subang Jaya.
This is beneficial, especially with Bank Negara Malaysia's announcement on the liberalisation of motor insurance beginning July 1, where premium pricing for Motor Comprehensive and Motor Third Party Fire and Theft products will be determined by individual insurers and takaful operators.
iFleet offers a complete solution that includes hardware, software and connectivity and is meant for managing fleets of any size, from large logistics companies to local businesses with a fleet of riders or company car drivers. They can monitor their vehicles on smartphones, tablets and computers.
Currently, the first phase of iFleet is a B2B solution targeted at commercial vehicles and transport service providers. In the second half of 2017, Digi will introduce iFleet for private vehicle owners that includes tracking, driver safety, and vehicle security.
"The device, almost the size of a smartphone, is attached to the battery of the vehicle. It is equipped with GPS and Glonass and has access to over 50 active satellites all over the globe. This allows for smooth tracking and real-time alert," said iFleet product manager Selina Wong. "It also provides a 24/7 vehicle recovery service for stolen vehicles, and connects to 999 in other emergency scenarios."
Using 150 data points – from sudden brakes and sharp turning to speeding, it could also provide driver behaviour analytics and accident reports.
The solution includes installation, system integration and fleet monitoring automation and comes with a lifetime warranty and after sales support. Digi is offering a limited RM75 a month per vehicle charge for existing Digi Enterprise customers, while others can enjoy the benefits of iFleet at RM90 per month.
For those interested in using iFleet, visit www.ifleet.my for more information.