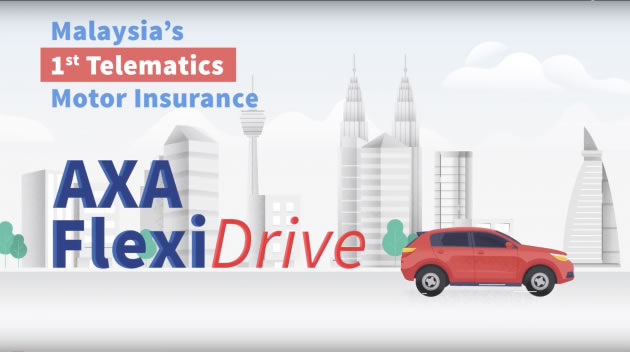 AXA FlexiDrive Celebrates 1-Year Anniversary
A year ago, AXA Affin General Insurance launched AXA FlexiDrive, the 1st Telematics motor insurance in Malaysia that rewards safe drivers with up to 20% safe driving discount. AXA FlexiDrive provides the most comprehensive safety and security features for its customers like automatic accident alert and assistance, as well as 24/7 vehicle security and theft recovery.
Since its official launch on July 2017, many cases have been reported where AXA FlexiDrive has made a difference in the motoring lives of its customers. Wong, who was involved in an accident, felt reassured after receiving a call from AXA immediately after said accident to ask if he required any assistance. On top of that, he also complimented the usefulness of the AXA FlexiDrive mobile app. "It's a very good tool. I always have it on my phone because it helps me with a lot of things – locate my car if anybody breaks in, and on top of that, when an accident happens, I feel so reassured. It's very comforting, it's very reliable and I feel very safe with it," he added.
Meanwhile, Camille appreciates the added security that AXA FlexiDrive provides with its 24/7 Vehicle Security & Theft Recovery feature, especially for women drivers. "As a female driver, it's always at the back of my mind if anything happens to me on the road. I feel protected 24/7 with AXA FlexiDrive – it ensures safety, security and it also helps me with my driving. I urge all females, you should sign up for AXA FlexiDrive," she said.
AXA FlexiDrive uses telematics technology and innovation to track and score a person's driving behaviour through measuring parameters such as mileage, speed, harsh acceleration and braking. A smooth and steady drive will lead to a better score which in turn leads to a bigger safe driving discount.
"Safety is my biggest priority when it comes to my children and family. Young drivers tend to drive very fast on the highway when we're not with them. With AXA FlexiDrive, I can know what's their driving behaviour, I will be the first to know," said Esther, a protective mother who wants to make sure her son always drives safely.
Recent reports have revealed that AXA FlexiDrive customers are rewarded with an average of 14% safe driving discount based on their safe driving behaviour. "I believe in driving safe, I believe everyone should drive safe. It offers safe driving tips, it gives you feedback on how well you have been driving, or otherwise. I signed up for AXA Flexidrive a year ago and since then I've saved RM712. I'm very happy with that. It's a great way to encourage drivers," said Rajendra, an economical driver who loves the savings aspect of AXA FlexiDrive.
As Malaysia has one of the highest accident and fatality rates in the region, the company is proud that AXA FlexiDrive has made an impact in improving driving behaviours and enhancing road and vehicle safety.
Read more on:
https://paultan.org/2018/11/09/axa-flexidrive-one-year-on-does-telematics-motor-insurance-make-a-difference-in-safety-and-savings/
https://www.carsifu.my/news/drive-safe-and-earn-14-discount-from-axa-telematics-motor-insurance
http://mrem.bernama.com/viewsm.php?idm=33130
http://www.focusmalaysia.my/Snippets/axa-rewards-with-an-avg-14-safe-driving-discount