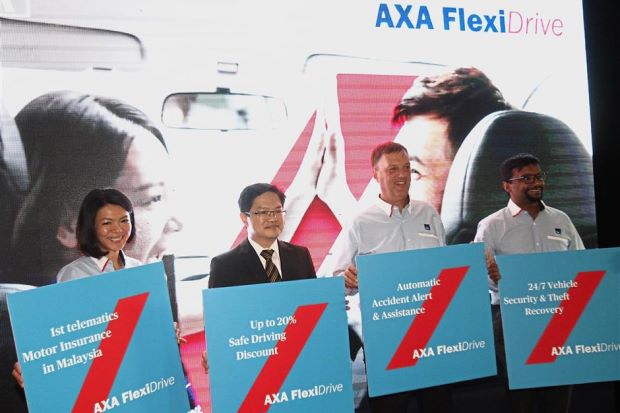 AXA Affin unveils Malaysia's first telematics-based motor insurance
KUALA LUMPUR: AXA Affin General Insurance Bhd has become the first insurance company to take advantage of the detariffed auto insurance environment by launching its AXA FlexiDrive, Malaysia's first telematics-based motor insurance.
The technology would help drivers better understand their driving behaviour through the installation of a special tracking device and the use of the AXA FlexiDrive mobile app in an insured vehicle.
Discounts of up to 20% of the premiums can be offered upon renewal of a motor insurance policy with AXA Affin depending on the driver's behaviour that takes into consideration speed, mileage and harsh driving.
"We give you benefit discounts if you drive well but we do not penalise the driver if he does not drive so well. We do not penalise drivers by raising their premiums," AXA Affin General Insurance's chief transformation & operation's officer management Rohit C Nambiar said at a press conference during the launch yesterday.
Users have to pay a security deposit of RM70 for the telematics device but AXA Affin said other devices that are in the market or already installed in vehicles would also be accepted provided they meet a certain technical standard and is compatible with the system.
Malaysia is the first country in the Asia Pacific Region in which AXA Affin operates in to have such a telematics technology for its motor insurance.
The technology also offers peace of mind while driving with round a clock vehicle security and theft recovery system in which users receive real-time alerts when any vehicle faces sabotage or damage is detected.
In cases of theft, AXA Affin will work with the police to recover the stolen vehicle upon receiving the police report.
The telematic technology also gives users enhanced safety on the road where in the event of accidents an alert will be automatically triggered and upon verification, an emergency medical assistance will be dispatched to the exact crash location.
AXA Affin presently has this telematic technology as an insurance option in more than 11 countries over the world.
"We did a test in Malaysia before this launch for one million km on 144 vehicles. Over the period of eight months we've only had two minor accidents but more importantly we noticed that people have become more aware of their driving behaviour," Rohit said.
"This is the power of telematics, where suddenly someone like me who thinks I am a good and safe driver realises that I am not such a good driver after all. Stolen cars can also be recovered in just a short span of time," he added.
Read more at http://www.thestar.com.my/business/business-news/2017/07/11/axa-affin-unveils-malaysias-first-telematicsbased-motor-insurance/#OqB9CTO3dAMxCGvW.99